June 2, 2019
Sunday 4-7:30 pm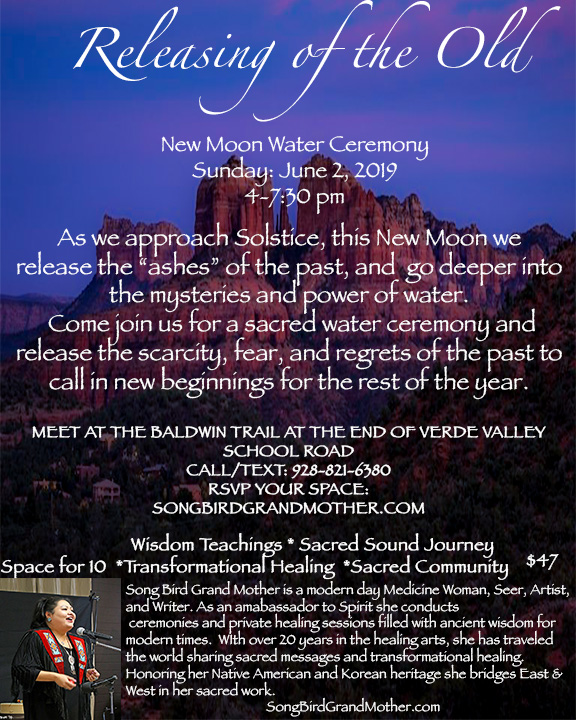 Here we are at the precipice of Summer Solstice and the turning of seasons. Join us for this special New Moon out on the lands of Sedona to release the ashes of the past.
Since Equinox of 2019 we have had a new moon, and full moon fire ceremony every month. We will take the ashes from the fires and now transition from Fire to Water. In this symbolic offering, we will release the scarcity, fear, and regrets of the past to weave solid new beginnings.
Cathedral Rock and Red Rock Crossing are symbolic of the heart, the feminine, and is a powerful place to release burdens and sorrows to call forth new life. We will discuss the power of this land and space, and call forth the ancestors to assist each person moving forward.
This is a great ceremony for anyone in the process of creating a new beginning and/or ready to make this summer prosperous and bountiful.
Come learn and explore the power of water, and how to use water to bring in blessings from yourself and those around you.
We will meet at the "Baldwin Trail" parking lot.
The Baldwin Trail is at the very end of "Verde Valley School Road"
Take Verde Valley School Road to the end of the dirt road and park in the parking lot. We will gather in front of the trail.
Be prepared to hike for about 15-20 minutes, and bring something to sit on. Dress comfortably in layers, and wear good hiking shoes.
Things to bring for you:
Open heart, Open Mind
Notebook/pen
Wear Comfortable clothing
Water
Pillow/blanket
Anything you would like "charged" on our altar (Jewelry, stones, pictures etc…)
Something you would like to offer to the waters. A stone, feather, flower, herb, etc…
It is proper protocol to bring a gift to the host please bring one of the following:
Cedar, tobacco, sweet grass, sage, lavender, palo santo, Juniper, Cornmeal or pollen, Mugwort, or another sacred herb
(All herbs are used in future fires, and are gifts for Grand Mother)
***No food so please come nourished.****
Please plan to arrive 10 minutes before 4 pm so we can hike together.

If you have any questions or concerns please call or text: 928-821-6380 or
email: GrandMothersFireCeremony@gmail.com
RSVP AT: https://www.eventbrite.com/e/releasing-of-the-old-water-ceremony-blessing-tickets-62284608942